The Spectre team do some aggressive upwind kiting, Ben Saunders might have survived his sastrugi ordeal, and the Ice Maidens make it to "the bottom of the earth".
Another week in the Antarctic and we have a big milestone, the Ice Maiden team made it to the South Pole on the 17th December. However their expedition hasn't stopped for long, already cutting in to their next target distance. The Spectre team was already off on their long homeward trek last week, the question for this week would be if they were going to be able to harness the wind and kite at least some of the way. Meanwhile Ben Saunders continues his solo crossing and may have finally beaten back the sastrugi that have plagued his recent updates.
You can catch up on all of the action from last week here.
The Spectre Expedition
The Spectre team ended last week in triumph, summiting their mighty namesake and starting the long journey home. They elected to begin their long slog back by man-hauling their pulks, however they hoped that they might be able to upwind kite at least some of the 300km to their next depot drop.
We rejoin the team on day 24 of their expedition, still man-hauling and finding the terrain to be fairly brutal, despite positively "hot" weather at -15oC. The weather proved so good that Leo describes it as "like a summer holiday" when compared to their initial arrival on the plateau.
The team report that their organisational skills have been up to the challenges so far, with their total camp pack-up time whittled down to an efficient 2 hours. Unfortunately, melting snow for drinks and breakfast still "takes ages", nothing in Antarctica comes easy.
By day 26 the expedition had left the "heavily crevassed and complex" Scott Glacier behind them. Moving on to the edge of the Robison Glacier the team hoped for kinder terrain, estimating that they have been adding on at least 50% a day above their straight line distance since leaving the Spectre, purely due to their indirect zig-zagging routes over the rough surface of the Scott Glacier.
An unexpected visitor paid Leo, Jean and Mark a visit on day 27. Some 500 miles from the sea a Southern Polar Skua was spotted, even returning to get a good look at the team the next day. They took this to be a good omen and so it proved, as the wind picked up enough to allow for some upwind kiting in almost ideal conditions. With good visibility, open terrain and hard ice under foot they covered a mighty 113km on their first day with the kites, and approximately 36km in terms of straight line distance.
Becalmed weather followed for the next 2 days, giving the team a chance to recharge and recuperate. By day 30 and their most recent update, the wind was back and they were again flying along by kite. "Pushing the kites to their limit aggressively cutting into the wind for almost 10 hours" they are now just 35km from the next depot.
Depending on the weather the could reach it tomorrow by kite, or in 10 days man-hauling! Fingers crossed for some wind.
Ben Saunders' Solo Crossing
Last week Ben was in the midst of what he described as "post-apocalyptic ice planet Armageddon" and a long running battle with sastrugi. While the battle has continued it seems that Ben is slowly winning the war.
With more white-out conditions the tactics for dealing with sastrugi have had to change, as Ben explains, "on previous days I've wrestled with whether to detour around the worst sastrugi, whereas today I couldn't see them". The lack of visibility means that a more direct route has been the only option as of late.
Day 40 was understandably devoted to rest and brought up an interesting statistic. Munching on his days food supply Ben calculated he has now consumed a quarter of a million calories during the course of the expedition, that's a whole lot of expended energy!
Over the next 2 days the terrain seems to have slowly improved, and subsequently so have his daily distance totals. Ben's magic number is down to 501 miles and hopefully far fewer sastrugi stand in his way.
The Ice Maidens
The Ice Maiden team had been piling up the kilometres last week and were over halfway to the South Pole.
By their next update they had jumped to within touching distance, just 43km away but through thick, heavy snow that had started to slow their progress considerably. Grinding through, the team arrived at the "bottom of the earth" at midnight, after a gruelling 577km and 26 days.
The team were ecstatic, but remained aware that 1,100km and another 40 or so days were still to come. A day of rest and celebration at the Pole followed, before it was back to the pulks on Monday 18th.
Since then the expedition team have continued to churn out 10 hour days as they eat into that final 1,100km.
Previous / Links:
Antarctica 2017: Summiting Spectre and the long walk home
Antarctica 2017: Crevasse Scares and Sastrugi Battles
Leo Houlding's Spectre: The Most Remote Mountain on Earth
Solo Trans-Antarctic Kicks Off
All-Female Ice Maiden Team to Cross Antarctica
About the Author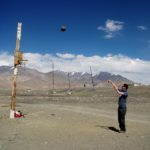 Martin Walsh
Martin Walsh is a freelance writer and wildlife photographer based in Da Lat, Vietnam.

A history graduate from the University of Nottingham, Martin's career arc is something of a smörgåsbord. A largely unsuccessful basketball coach in Zimbabwe and the Indian Himalaya, a reluctant business lobbyist in London, and an interior design project manager in Saigon.

He has been fortunate enough to see some of the world. Highlights include tracking tigers on foot in Nepal, white-water rafting the Nile, bumbling his way from London to Istanbul on a bicycle, feeding wild hyenas with his face in Ethiopia, and accidentally interviewing Hezbollah in Lebanon.

His areas of expertise include adventure travel, hiking, wildlife, and half-forgotten early 2000s indie-rock bands.