Fell running originated around 1,000 years ago in the hills and mountains of the UK. Also known as mountain running, hill running or trail running, it's become popular around the globe.
The Bob Graham Round is one of the blue ribbon events of fell running. Participants have to run up 42 mountains in England's Lake District within 24 hours. It's named after a local hotelier from the 1930s who put in a record time for that challenge, which was already ongoing in that era.
In May 2016, Nicky Spinks, a 49-year-old farmer and cancer survivor, completed a double Bob Graham, becoming only the second person, and the first female, to do the double in under 48 hours. Her time still ranks fourth overall.
In climbing each of the 42 Lakeland mountains twice, she covered over 212 kilometres and put in a vertical distance of 16,500 meters, all without sleep and fueled by baked beans and sausages!
This video tells the story of how this middle-aged amateur athlete broke fell running history.
About the Author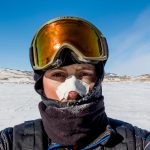 Ash Routen
Ash is an outdoor and adventure writer from the UK. He juggles a day job as a public health scientist with a second career in outdoor writing.

His words have featured in national newspapers, international magazines, and on various websites. Major bylines include Financial Times, Daily Telegraph, Porsche, Outside Magazine, Rock and Ice, and Red Bull.

He holds two degrees in Exercise and Health Sciences, and a PhD in Public Health.

His areas of expertise are polar expeditions, mountaineering, hiking, and adventure travel. In his spare time Ash enjoys going on small independent sledding expeditions, outdoor photography, and reading adventure literature.

Read more at www.ashrouten.com or follow Ash via @ashrouten on Twitter and Instagram.