British endurance athlete Ross Edgley is 84 days into a 3,220km swim around Britain. He swims during the day, then sleeps aboard a support boat on what is called a Contiguous Stage Sea Swim. He hasn't set foot on land since he took the plunge on June 1.
The current record for the Longest Assisted Contiguous Stage Sea Swim with a wetsuit but no fins or hand paddles stands at 73 days. If Edgley finishes, he can set a new record, once verified by the World Open Water Swimming Association.
However, he might not keep the trophy for long: Current record holder Benoit Lecomte is over 1,000km into his own 8,800km swim across the Pacific Ocean. This has the potential to eclipse any mark Edgley may set.
Edgley started from the town of Margate, on the southeast corner of Britain. He has made relatively smooth progress but has had some small challenges along the way, including jellyfish stings and chunks of his tongue disintegrating from prolonged exposure to salt water.
On his 74 days in the water, Edgley said:
"I feel an immense sense of pride … it's obviously no easy feat! Scotland represented such an important point. It meant we stood a chance of getting round John O'Groats [the northern tip of Britain], and back down the other side before winter really kicks in."
Edgley has swum approximately 1,600 km — over halfway. He is averaging 20km a day.
Links
Pacific Swim Update: Lecomte Hits 1,000km
Benoit Lecomte attempts to swim the Pacific
About the Author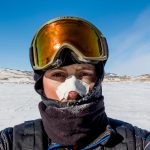 Ash Routen
Ash is an outdoor and adventure writer from the UK. He juggles a day job as a public health scientist with a second career in outdoor writing.

His words have featured in national newspapers, international magazines, and on various websites. Major bylines include Financial Times, Daily Telegraph, Porsche, Outside Magazine, Rock and Ice, and Red Bull.

He holds two degrees in Exercise and Health Sciences, and a PhD in Public Health.

His areas of expertise are polar expeditions, mountaineering, hiking, and adventure travel. In his spare time Ash enjoys going on small independent sledding expeditions, outdoor photography, and reading adventure literature.

Read more at www.ashrouten.com or follow Ash via @ashrouten on Twitter and Instagram.