For 150 years, Greenland's ice sheet has drawn polar travellers from across the globe. In modern times, climbers and skiers have also come for the untouched walls and ski descents.
British mountaineer Ben Tibbetts is best known as an alpine guide, photographer and artist. But in this new short, Tibbetts has crafted a neat film which tells the story of four Brits' search for virgin ski lines in East Greenland. A secondary aim of the quartet's journey was to test out a mapping software called Fatmap, developed by one of the team, Misha Gopaul: "It gives you a portable, highly detailed 3D map of a mountain. If we could prove this technology worked, it would mean that mountaineers and skiers could explore the wildest routes without weeks of reconnaissance work," said Tibbetts.
Starting from Kulsuk in East Greenland, the team hitches a boat ride and then skis across sea ice, hauling light pulks, to reach a mountain chain further north. For the next two weeks, they manage to cram in a whole host of lines, including three first descents.
A 300m couloir running all the way out onto the sea ice marks their first big run. Once they have a taste for Greenland's scale and remoteness, they push on, pulk hauling further into the wild interior. Their big test, and a main feature of the film, comes on a ridgeline leading to a steep, unseen descent. With only low-resolution maps for that particular route, the possibility of cliff bands makes them uneasy and they decide to find an alternative.
In his blog, Tibbetts writes that the FatMap was instrumental in the success of their trip: In such a serious environment, "I doubt whether I would have considered those lines at all with only conventional tools," he says.
Sweeping, sun-washed mountain faces and mile upon mile of sea ice smoking with arctic drift are mixed with skiing action and thoughtful commentary. It's a sneak peek into what it takes to carve fresh tracks in uncharted territory, to draw a "Line in the Snow".
Links

About the Author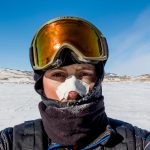 Ash Routen
Ash is an outdoor and adventure writer from the UK. He juggles a day job as a public health scientist with a second career in outdoor writing.

His words have featured in national newspapers, international magazines, and on various websites. Major bylines include Financial Times, Daily Telegraph, Porsche, Outside Magazine, Rock and Ice, and Red Bull.

He holds two degrees in Exercise and Health Sciences, and a PhD in Public Health.

His areas of expertise are polar expeditions, mountaineering, hiking, and adventure travel. In his spare time Ash enjoys going on small independent sledding expeditions, outdoor photography, and reading adventure literature.

Read more at www.ashrouten.com or follow Ash via @ashrouten on Twitter and Instagram.