Solo to the South Pole
Masatatsu Abe had only 173km left to the South Pole on January 8. But as he neared the 88th degree, hidden crevasses began to lurk along his route. He now watches carefully for snow with a hint of blue, signalling dark and potentially fatal depths just below.
Abe has also granted us a peek into the workings of his toilet stops, thankfully without photographic accompaniment. It seems that his ski bibs lack a drop seat, so he must remove his jacket in order to pull down his drawers. In the Antarctic, this semi-striptease is far from pleasant. This close to the South Pole, he is unable to leave any toilet paper behind, so he mops up with pieces of hard snow.
Matthieu Tordeur is also nearing the Pole. On January 10, he passed the final degree of latitude and now has only 88km to go. He won't finish in a blazing final run, however, as a rickety knee is slowing him down.
Update, Jan 13: Tordeur reached the Pole today, after 51 days.
Jenny Davis has completed an unfortunate triptych. All three of this season's solo speed attempts have called it quits. After Eric Larsen and Richard Parks aborted, Davis was the last left standing, but she had been suffering from nausea and stomach pains for some time. Her condition deteriorated in early January, and after consulting ALE doctors, she was airlifted on January 6 from Antarctica to Chile. She is now in hospital in Punta Arenas, where she has been diagnosed with a bowel infection and peritonism, with symptoms akin to the more serious peritonitis, which killed manhauler Henry Worsley a year ago.
Guided Expeditions
Two ALE guided ski teams reached the South Pole on January 7. The Messner Start group, including Joe Doherty, arrived after a 45-day slog. They are now preparing to kite-ski to Hercules Inlet.
The second ALE team, led by Are Johansen, began at Hercules Inlet and will end their trek at the South Pole.
Related stories:
Crossing Antarctica: How the Confusion Began and Where do We Go From Here
O'Brady's Antarctic Crossing: Was It Really Unassisted?
Antarctica 2018-2019: First? Traverse? (Week Eight)
Antarctica Expeditions to Watch 2018-2019 Part 1
Antarctica Expeditions to Watch 2018-2019 Part 2
About the Author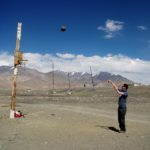 Martin Walsh
Martin Walsh is a freelance writer and wildlife photographer based in Da Lat, Vietnam.

A history graduate from the University of Nottingham, Martin's career arc is something of a smörgåsbord. A largely unsuccessful basketball coach in Zimbabwe and the Indian Himalaya, a reluctant business lobbyist in London, and an interior design project manager in Saigon.

He has been fortunate enough to see some of the world. Highlights include tracking tigers on foot in Nepal, white-water rafting the Nile, bumbling his way from London to Istanbul on a bicycle, feeding wild hyenas with his face in Ethiopia, and accidentally interviewing Hezbollah in Lebanon.

His areas of expertise include adventure travel, hiking, wildlife, and half-forgotten early 2000s indie-rock bands.