Here at ExWeb, when we're not outdoors, we get our adventure fix by exploring social media and the wider interweb. Sometimes we're a little too plugged in, and browsing interesting stories turns from minutes into hours. To nourish your own adventure fix, here's some of the best links we've discovered this week…
The Oscars of Climbing: Each year, an international committee awards the Piolet D'or  to a few mountaineers who have made outstanding climbs the previous year. This year's long list contains a whopping 58 climbs, including several from recently deceased stars David Lama, Marc-André Leclerc and Hansjorg Auer.
Mr. Adventure: An interview with the legendary Fyodor Konyukhov. The Russian polymath is the world's most accomplished modern adventurer. He's climbed Everest twice, skied to the North Pole three times, rowed across the Atlantic and Pacific and is currently rowing around the world. Oh, and he's ballooned around the earth, dogsledded in the Iditarod and — in his early years — cycled across Russia.
If The Shoe Fits: Briton Peter Messervy-Gross ran the 100-mile Rat Race across frozen Lake Khovsgol in Mongolia earlier this year. Because the airline lost his luggage, Messervy-Goss had to run in a pair of smart leather shoes known as brogues.
Metanoia: The late American alpinist Jeff Lowe left a huge legacy in mountaineering, including his mythical route on the North Face of the Eiger called Metanoia. In 2016, Stephan Siegrist, Thomas Huber and Roger Schaeli made the first repeat of the daring route.
Ice Legacy: Record-breaking Norwegian polar traveller Borge Ousland has been working on a long-term project to ski the world's 20 largest ice caps, with protegé Vincent Colliard. In this interview, National Geographic explores their project.
Botanist in Disguise: The first woman to sail around the world, Jeanne Baret, was known to be a cross-dressing botanist – or more simply, she dressed as a man to sneak on to the expedition which took her around the globe. A remarkable tale.
About the Author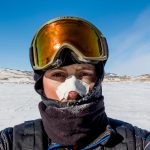 Ash Routen
Ash is an outdoor and adventure writer from the UK. He juggles a day job as a public health scientist with a second career in outdoor writing.

His words have featured in national newspapers, international magazines, and on various websites. Major bylines include Financial Times, Daily Telegraph, Porsche, Outside Magazine, Rock and Ice, and Red Bull.

He holds two degrees in Exercise and Health Sciences, and a PhD in Public Health.

His areas of expertise are polar expeditions, mountaineering, hiking, and adventure travel. In his spare time Ash enjoys going on small independent sledding expeditions, outdoor photography, and reading adventure literature.

Read more at www.ashrouten.com or follow Ash via @ashrouten on Twitter and Instagram.