Brazilian kayaker Alvaro Walendowsky is five days into his attempt to become the first person to circumnavigate Lake Titicaca solo.
Titicaca, which straddles the border of Peru and Bolivia, is the largest lake by volume in South America. Its elevation of 3,810m makes it the highest of the world's large lakes.
Walendowsky started from the city of Puno in Peru on July 19 and is paddling in a counter-clockwise direction for 1,100km.
On the second day, the Brazilian was pelted with hailstones. Given its altitude and the winter season, morning temperatures have also been cool for kayaking.
At the small border town of Yunyugo, Walendowsky is currently negotiating with border officials to continue his journey into Bolivia.
The Brazilian has sought advice from Belgian adventurer Louis-Philippe Loncke. In 2013, Loncke and Peruvian Gadiel Sánchez Rivera made the first circumnavigation of the lake, in 38 days. This included some delay at the border.
Says Loncke: "Alvaro will have no problems and is faster alone. I think he can do it in three weeks."
About the Author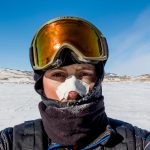 Ash Routen
Ash is an outdoor and adventure writer from the UK. He juggles a day job as a public health scientist with a second career in outdoor writing.

His words have featured in national newspapers, international magazines, and on various websites. Major bylines include Financial Times, Daily Telegraph, Porsche, Outside Magazine, Rock and Ice, and Red Bull.

He holds two degrees in Exercise and Health Sciences, and a PhD in Public Health.

His areas of expertise are polar expeditions, mountaineering, hiking, and adventure travel. In his spare time Ash enjoys going on small independent sledding expeditions, outdoor photography, and reading adventure literature.

Read more at www.ashrouten.com or follow Ash via @ashrouten on Twitter and Instagram.