Here at ExWeb, when we're not outdoors, we get our adventure fix by exploring social media and the wider interweb. Sometimes we're a little too plugged in, and browsing interesting stories turns from minutes into hours. To nourish your own adventure fix, here are some of the best links we've discovered this week…
The Impossible Row: Colin O'Brady has just announced — on the Tonight Show, no less — his latest "Impossible" expedition. First man to walk across the moon without oxygen, you ask? First man to swim the English Channel underwater? Alas, no. "The Impossible Row" will see O'Brady lead a team rowing effort across the notorious Drake Passage, from South America to Antarctica, in a big-budget Discovery Channel venture. Ned Gillette did this row many years ago in a vessel he christened the Sea Tomato, but no doubt O'Brady will again apply qualifiers to explain why his is a first.
Rubbish: "The weather there was rubbish, the climbing conditions were rubbish, the permit situation was rubbish," laments Mick Fowler after being beaten back on the Matterhorn of the Sikkim, Mt. Chombu.

Lost and Alone: When a Quebec teacher went snowboarding off-piste at a British Columbia resort, he hadn't bargained on being stranded for six nights in a snow cave.
Queen of Thirteen: A 55-year-old woman has become the first person to summit all 846 peaks above 13,000 feet in the U.S., excluding Alaska.
Howse Peak Investigation: Globe and Mail journalist Marty Klinkenberg takes a forensic look at what caused the devastating deaths of Jess Roskelley, Hansjörg Auer and David Lama earlier this year.
The Last Slice: From the first volume of his autobiography Up and About: The hard road to Everest, Doug Scott recalls an exploratory expedition in the Canadian Arctic.
About the Author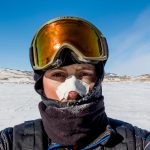 Ash Routen
Ash is an outdoor and adventure writer from the UK. He juggles a day job as a public health scientist with a second career in outdoor writing.

His words have featured in national newspapers, international magazines, and on various websites. Major bylines include Financial Times, Daily Telegraph, Porsche, Outside Magazine, Rock and Ice, and Red Bull.

He holds two degrees in Exercise and Health Sciences, and a PhD in Public Health.

His areas of expertise are polar expeditions, mountaineering, hiking, and adventure travel. In his spare time Ash enjoys going on small independent sledding expeditions, outdoor photography, and reading adventure literature.

Read more at www.ashrouten.com or follow Ash via @ashrouten on Twitter and Instagram.