After a 12-hour day, Borge Ousland and Mike Horn are only four to five kilometres from Bengt Rotmo and Aleksander Gamme, who are bringing more food and fuel for the last section of the pair's trans-Arctic Ocean route.
Rotmo and Gamme are bedded down for the night after a long day on the ice, which included getting stuck in an area with multiple leads and thin ice. In the meantime, the Lance again motoring its way north through a system of leads.
Rotmo and Gamme can't come soon enough, as Ousland wrote earlier that things are still touch and go:
"I was very worried this morning, because yesterday, we were battling with huge open-water leads and didn't make much progress. But today, the ice has been good.
So it looks very promising for meeting up with my friends. It will be in the nick of time. It's already blowing quite hard and gale-force winds are expected later this afternoon.
It's day 85, and our last day with our own rations, and we have two fuel bottles left.
About the Author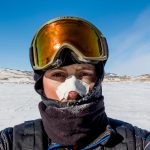 Ash Routen
Ash is an outdoor and adventure writer from the UK. He juggles a day job as a public health scientist with a second career in outdoor writing.

His words have featured in national newspapers, international magazines, and on various websites. Major bylines include Financial Times, Daily Telegraph, Porsche, Outside Magazine, Rock and Ice, and Red Bull.

He holds two degrees in Exercise and Health Sciences, and a PhD in Public Health.

His areas of expertise are polar expeditions, mountaineering, hiking, and adventure travel. In his spare time Ash enjoys going on small independent sledding expeditions, outdoor photography, and reading adventure literature.

Read more at www.ashrouten.com or follow Ash via @ashrouten on Twitter and Instagram.