Here at ExWeb, when we're not outdoors, we get our adventure fix by exploring social media and the wider interweb. Sometimes we're a little too plugged in, and browsing interesting stories turns from minutes into hours. To nourish your own adventure fix, here are some of the best links we've discovered this week…
Pocket Knife to the Rescue: The story of a Canadian man who fought off a predatory grizzly in British Columbia with nothing but a small blade gifted by his father.
At Mercy of the Wind: Polar guide and snowkiter Carl Avery brings two ambitious clients on a 2,300km kiteski across the Greenland ice sheet.
Staying Alive: In the second episode of his new podcast, climber and raconteur Andy Kirkpatrick talks about his experiences of not dying in the mountains.
Rolling the Dice: A group of skiers from England put their limited ski touring experience to the test in Iceland's remote Hornstrandir Nature Reserve.
Posner Walks: A few years ago, Grammy-nominated artist Mike Posner took time out to walk 4,588km across America. The remarkable story starts with Posner being bitten by a rattlesnake in Colorado.
Moffat Talks: Jerry Moffat may be less known outside of the UK, but there was a time in the 80s where he was arguably the world's best sport, boulder and trad climber. This old interview covers those halycon days.
About the Author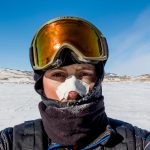 Ash Routen
Ash is an outdoor and adventure writer from the UK. He juggles a day job as a public health scientist with a second career in outdoor writing.

His words have featured in national newspapers, international magazines, and on various websites. Major bylines include Financial Times, Daily Telegraph, Porsche, Outside Magazine, Rock and Ice, and Red Bull.

He holds two degrees in Exercise and Health Sciences, and a PhD in Public Health.

His areas of expertise are polar expeditions, mountaineering, hiking, and adventure travel. In his spare time Ash enjoys going on small independent sledding expeditions, outdoor photography, and reading adventure literature.

Read more at www.ashrouten.com or follow Ash via @ashrouten on Twitter and Instagram.