Here at ExWeb, when we're not outdoors, we get our adventure fix by exploring social media and the wider interweb. Sometimes we're a little too plugged in, and browsing interesting stories turns from minutes into hours. To nourish your own adventure fix, here are some of the best links we've discovered this week…
Gadd's Commandments: Although not empirically supported, climber Will Gadd provides some useful tips for training and staying fit across the lifespan.
What are the Odds?: Outside seem to be making a habit of publishing close encounters with dangerous wildlife. This time, two people who happen to be dating are gored by bison a few months apart.
Put a Ring On It: Alex Honnold has seemingly suffered from a rare case of emotion as he proposed to his girlfriend over Christmas. Wonder if they'll make the pages of Vanity Fair.
Time for Change: The Alpine Club in collaboration with other organizations have proposed changes to mountain tourism in Nepal. About time.
Harder than It Looks: If you're ever caught tentless in the Arctic, you might consider taking refuge in an Igloo. Building this traditional shelter isn't easy, but this old National Film Board documentary lays out the basics.
Lost World: Leo Houlding recently led a motley crew of climbers up a remote big wall in Guyana. This photo essay depicts a good old-fashioned adventure.
What I Learned in Avalanche School… is that people pushing limits are the problem, according to this in-depth first-person report from The New York Times.
About the Author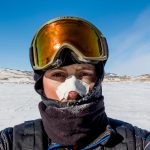 Ash Routen
Ash is an outdoor and adventure writer from the UK. He juggles a day job as a public health scientist with a second career in outdoor writing.

His words have featured in national newspapers, international magazines, and on various websites. Major bylines include Financial Times, Daily Telegraph, Porsche, Outside Magazine, Rock and Ice, and Red Bull.

He holds two degrees in Exercise and Health Sciences, and a PhD in Public Health.

His areas of expertise are polar expeditions, mountaineering, hiking, and adventure travel. In his spare time Ash enjoys going on small independent sledding expeditions, outdoor photography, and reading adventure literature.

Read more at www.ashrouten.com or follow Ash via @ashrouten on Twitter and Instagram.