Many expeditions to the Pole have wrapped up, but those still hauling across the ice enjoyed good weather this week.
Wen Xu
On January 9, almost immediately after last week's update, Wen Xu arrived at the Pole. The Chinese adventurer had set off from the north side of Berkner Island, aiming to cross the continent via the Pole on route to the Axel Heiberg Glacier.
His wife reports that Xu arrived at the Pole in good shape. He had no significant cold injuries or kit problems and was ready to continue on the second leg of his journey. However, after consulting with Antarctic Logistics & Expeditions (ALE) it became apparent that he was out of time. ALE needed to pick up Xu on January 23, leaving him just two weeks to cover 600km.
His start had been delayed for 12 days by strikes in Chile and then by soft snow on Berkner Island. Reluctantly, he has given up his crossing.
Surprise Speed Record Attempt – Richard Parks
Richard Parks kept his Antarctic plans close to his chest. He only announced his Hercules Inlet to South Pole speed record attempt after more than three weeks on the ice. This was Parks' second attempt to break Christian Eide's 24-day mark. Last year, he stayed almost on pace for 12 days before his body broke down and he ended his attempt 14 days in.
This year, he made it to the Pole but once again fell short of breaking the record. However, he did best his own British record by almost a day, setting a new time of 28 days. Parks must have been famished by the finish, because he only took 25 days of supplies and planned to stretch these to 27 days through rationing.
Solos to the South Pole
After just over 58 days of skiing, Mollie Hughes reached the Pole on January 10. She becomes the youngest woman to ski solo to the South Pole but, following a resupply at Thiels Corner, she missed out on her original goal to do so unsupported.
Neil Hunter completed his expedition after 51 days on January 16. Despite a drop in temperature on the polar plateau, he enjoyed a final week of pretty good weather.
Guided Efforts of Note
Robert Swan's team, minus the man himself, arrived at the Pole on January 14. Johanna Davidsson, Kathinka Gyllenhammar and Kyle O'Donoghue rendezvoused with a last-degree team last week.
After 66 days, Jing Feng, Sarah McNair-Landry and Erik Boomer are now just 200km from the Pole of Inaccessibility. They have picked up their final resupply, and if the weather holds, they should be about eight days from completing their journey.
Lucy Reynolds' guided group crossed into the last degree on January 14. Their latest update puts them 85km from the Pole.
About the Author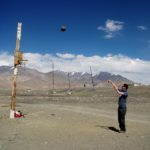 Martin Walsh
Martin Walsh is a freelance writer and wildlife photographer based in Da Lat, Vietnam.

A history graduate from the University of Nottingham, Martin's career arc is something of a smörgåsbord. A largely unsuccessful basketball coach in Zimbabwe and the Indian Himalaya, a reluctant business lobbyist in London, and an interior design project manager in Saigon.

He has been fortunate enough to see some of the world. Highlights include tracking tigers on foot in Nepal, white-water rafting the Nile, bumbling his way from London to Istanbul on a bicycle, feeding wild hyenas with his face in Ethiopia, and accidentally interviewing Hezbollah in Lebanon.

His areas of expertise include adventure travel, hiking, wildlife, and half-forgotten early 2000s indie-rock bands.