Here at ExWeb, when we're not outdoors, we get our adventure fix by exploring social media and the wider interweb. Sometimes we're a little too plugged in, and browsing interesting stories turns from minutes into hours. To nourish your own adventure fix, here's some of the best links we've discovered this week…
Idiot Savant: This excerpt from an old Jon Krakauer book is the best writing I've seen on Fred Beckey, the greatest mountain first ascensionist of all time. One of his old climbing buddies hilariously dubbed him an Idiot Savant.
Flying Circus: In the week that Monty Python star Terry Jones passed, it's time to relive that classic climbing piss-take, Climbing the North Face of Uxbridge Road.
Frozen In Time: The first female president of the American Alpine Club, Alison Osius, takes us back 45 years to when eight Soviet climbers fought for their life on Peak Lenin during the worst storm for 25 years.
Running North America's Wildest River: A barnstorming tale of adventure filmmaker Mike Hoover's attempt at the first descent of the Dezadeash River in Alaska in the late 1960s. Featuring bears, a lost raft and a series of close shaves.
Climate and the Future of Mountaineering: UK Climbing discusses how the climbing community can help the current climate and ecological crisis, and what this means for mountaineering in ensuing decades.
Canine Grimpeur: It seems to be bizarrely in vogue to drag your pooch out climbing. This eight-year-old husky has apparently become the first dog to summit all of Colorado's 14'ers.
Avalanche School: A New York Times journalist went on an avalanche course and came away with a new appreciation for the human factors which drive avalanche accidents.
About the Author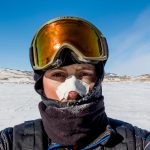 Ash Routen
Ash is an outdoor and adventure writer from the UK. He juggles a day job as a public health scientist with a second career in outdoor writing.

His words have featured in national newspapers, international magazines, and on various websites. Major bylines include Financial Times, Daily Telegraph, Porsche, Outside Magazine, Rock and Ice, and Red Bull.

He holds two degrees in Exercise and Health Sciences, and a PhD in Public Health.

His areas of expertise are polar expeditions, mountaineering, hiking, and adventure travel. In his spare time Ash enjoys going on small independent sledding expeditions, outdoor photography, and reading adventure literature.

Read more at www.ashrouten.com or follow Ash via @ashrouten on Twitter and Instagram.