Here at ExWeb, when we're not outdoors, we get our adventure fix by exploring social media and the wider interweb. Sometimes we're a little too plugged in, and browsing interesting stories turns from minutes into hours. To nourish your own adventure fix, here's some of the best links we've discovered this week…
Pandora's Box: The Japanese alpinist Kei Taniguchi became the first woman to receive the Piolet d'Or in 2009. Despite passing before her time, she made her mark with  exploratory new routes worldwide. This is her story.
Unwanted Discovery: The historic, and perhaps stuffy, Explorers Club hit the headlines last week when news of a Discovery Channel takeover deal emerged.
Freedive: Until the age of 40, Natalia Molchanova lived a conventional life, until one day she turned to free diving. Within a decade, she became one of the sport's best exponents.
Art of Chill: An interview with filmmaker Jimmy Chin, the man behind the brilliant Oscar-winning film Free Solo. He's a pretty handy climber too.
The Postman: This charming short film tells the story of the last village to be connected to the UK road network. Until then, the village relied on the postman traveling on foot with not just mail, but all news of the outside world. Talk about self-isolation…
Angle of Attack: The life of a wingsuit pilot is a game of inches. The Outdoor Journal looks at what it takes to belt along at the speed of a train, just inches from the ground.
About the Author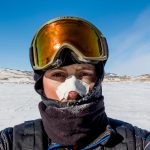 Ash Routen
Ash is an outdoor and adventure writer from the UK. He juggles a day job as a public health scientist with a second career in outdoor writing.

His words have featured in national newspapers, international magazines, and on various websites. Major bylines include Financial Times, Daily Telegraph, Porsche, Outside Magazine, Rock and Ice, and Red Bull.

He holds two degrees in Exercise and Health Sciences, and a PhD in Public Health.

His areas of expertise are polar expeditions, mountaineering, hiking, and adventure travel. In his spare time Ash enjoys going on small independent sledding expeditions, outdoor photography, and reading adventure literature.

Read more at www.ashrouten.com or follow Ash via @ashrouten on Twitter and Instagram.