With the news that Norway has closed its borders, and all non-residents of Svalbard being shepherded off the island, the North Pole season has cancelled for the second year in a row, thanks to COVID-19. In 2019, political wranglings between Ukraine and Russia ended the North Pole season before it could even begin. No news yet of the Russian Ice station Barneo, but since everyone routes through Svalbard, and its brief season starts now and ends before the end of April, we must assume that it is also scrubbed for another year.
On Sunday in Longyearbyen, polar guide Eric Philips lamented that the archipelago's capital usually buzzes with tourists at this time of year, and that by now he and his clients "would have had sleds packed with equipment and food, ready to manhaul up Adventdalen toward glaciers and snow-covered mountains."
"Instead," he went on, "the world is in lockdown and we are in quarantine… Longyearbyen is essentially a ghost town, with only locals going about their business, but not the kind of business it relies on this time of year. The travel industry here is decimated and along with it, Icetrek's expedition programs. [We] came in on the last flight into Svalbard before its borders effectively closed. As of 8 a.m. this morning, Norway…shut itself off to foreign nationals, meaning that there is no possible way for our customers to reach us here in Longyearbyen. But even if they could get in, we would not be able to head into the backcountry, as all outdoor activity has been halted — rescue services do not want to be exposed to coronavirus in the event of an emergency. And the final blow, Norway is evicting all foreigners, including us, and we will be on a flight out in the next 24 hours."

Another High Arctic regular, and the last person to reach the North Pole from land in 2014, guide Eric Larsen summed it up: "For my clients, [it's] heartbreaking. For my guiding business, it's a financial disaster."
Despite the disappointment, Larsen highlighted why adventurers are perhaps well-placed to put broken dreams in perspective. "I've dealt with so much uncertainty and fear that being scared is more like hanging out with an old friend than anything else."
About the Author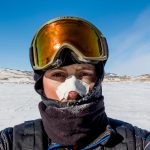 Ash Routen
Ash is an outdoor and adventure writer from the UK. He juggles a day job as a public health scientist with a second career in outdoor writing.

His words have featured in national newspapers, international magazines, and on various websites. Major bylines include Financial Times, Daily Telegraph, Porsche, Outside Magazine, Rock and Ice, and Red Bull.

He holds two degrees in Exercise and Health Sciences, and a PhD in Public Health.

His areas of expertise are polar expeditions, mountaineering, hiking, and adventure travel. In his spare time Ash enjoys going on small independent sledding expeditions, outdoor photography, and reading adventure literature.

Read more at www.ashrouten.com or follow Ash via @ashrouten on Twitter and Instagram.