The lifeless yet wondrous Bolivian Salt Desert, Salar de Uyuni, draws in those who live their lives on the edge. For Polish explorer Mateusz Waligóra, it is the epitome of the human experience — a journey of pain, joy, failure and acceptance. From the rural village of Isla Incahuasi, he traverses the barren plains hauling a cart of equipment, a traditional mode of transport that carries us back to not only our humble beginnings but also humankind's unbreakable determination and spirit. 
At 3,500m above sea level, along a 150km trail far from anything resembling civilization, Waligóra's journey across the salty wilderness is only matched by the mental beatings. Despite an unexpected case of salmonella poisoning paired with altitude sickness, he keeps moving forward through the white, otherworldly landscape.
Now, you would think that this was a story about victory, about taming nature and defying the odds. But sometimes, doors close and life gives you a clear and resounding no. No one knows why some dreams do not come into fruition. But what we do know is that when they don't, the lesson learned is always victory enough.
About the Author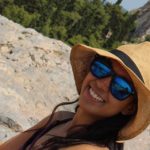 Kristine De Abreu
Kristine De Abreu is a writer (and occasional photographer) based in sunny Trinidad and Tobago.

Since graduating from the University of Leicester with a BA in English and History, she has pursued a full-time writing career, exploring multiple niches before settling on travel and exploration. While studying for an additional diploma in travel journalism with the British College of Journalism, she began writing for ExWeb.

Currently, she works at a travel magazine in Trinidad as an editorial assistant and is also ExWeb's Weird Wonder Woman, reporting on the world's natural oddities as well as general stories from the world of exploration.

Although she isn't a climber (yet!), she hikes in the bush, has been known to make friends with iguanas and quote the Lord of the Rings trilogy from start to finish.