Here at ExWeb, when we're not outdoors, we get our adventure fix by exploring social media and the wider interweb. Sometimes we're a little too plugged in, and browsing interesting stories turns from minutes into hours. To nourish your own adventure fix, here's some of the best links we've discovered this week…
A Giant Passes: British climber Joe Brown — described as "arguably the greatest ever all-round climber" — died aged 89 this week. The end of an era.
Brown Talks: A rare interview with Joe Brown reflecting on some of his climbs in North Wales. His technical rock routes in the 1940s and 1950s were ranked among the hardest in the world at the time.
Ecology Of Fear: This ski journey piece from Aaron Teasdale won a travel writing award. They said: "Teasdale blends ecology, history and politics as he poses the question: Why does Yellowstone matter?"
Three Of The Best: One year ago this week, the climbing world lost the huge talents of David Lama, Hansjörg Auer and Jess Roskelley on the descent from a climb in the Canadian Rockies.
Healing After Howse: Continuing on the Lama et al theme, Outdoor Journal ask that age old question — Is it worth it?
Antarctic Rainforest: Some scientists reckon that 90 million years ago, a lush rainforest flourished in the unlikeliest of places — 82 degrees south.
Life on El Cap: An entertaining tale of an amateur climber's first time on El Cap. He jumped into the deep end by freeing El Corazon (5.13b).
Wilderness Navigation: An excellent series of videos on wilderness navigation. What better time to brush up on these essential skills?
About the Author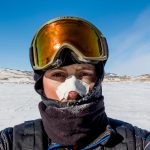 Ash Routen
Ash is an outdoor and adventure writer from the UK. He juggles a day job as a public health scientist with a second career in outdoor writing.

His words have featured in national newspapers, international magazines, and on various websites. Major bylines include Financial Times, Daily Telegraph, Porsche, Outside Magazine, Rock and Ice, and Red Bull.

He holds two degrees in Exercise and Health Sciences, and a PhD in Public Health.

His areas of expertise are polar expeditions, mountaineering, hiking, and adventure travel. In his spare time Ash enjoys going on small independent sledding expeditions, outdoor photography, and reading adventure literature.

Read more at www.ashrouten.com or follow Ash via @ashrouten on Twitter and Instagram.