Here at ExWeb, when we're not outdoors, we get our adventure fix by exploring social media and the wider interweb. Sometimes we're a little too plugged in, and browsing interesting stories turns from minutes into hours. To nourish your own adventure fix, here are some of the best links we've discovered this week…
Searching for Superman: In the mid-1970s, alpinist and ski mountaineering pioneer Fritz Stammberger disappeared on a solo expedition in the Himalaya. In this award-winning essay, climber Jeff Long digs into the decades-old mystery.
In Due Time: The 170km long Arctic Circle Trail in Greenland is mainly a summer hike, but in recent years it has become more popular for winter ski touring. This short film follows two endurance athletes on a recent traverse.
Oscar Time: This year's Piolet d'Or long list features familiar names such as Tom Livingstone and the Pou brothers. Also singled out are the hardy Russian pair of Dmitry Golovchenko and Sergey Nilov for their sufferfest on Jannu.
Tranqui: For hundreds of years, nomadic horsemen have roamed across Patagonia. Texan Stevie Anna delves into long-distance horseback travel on a journey across the spine of these windswept pampas.
Confessions of a Snowman: Author, filmmaker and former park ranger Jon Waterman reflects on a life lived in and around snow, and the myriad ways it can both protect and threaten.
Planning an Arctic Kayak: Sea kayak expeditioner Kristoffer Vandbakk covers some of the basics on how to plan and execute a sea kayaking journey along an exposed and isolated coastline.
About the Author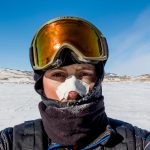 Ash Routen
Ash is an outdoor and adventure writer from the UK. He juggles a day job as a public health scientist with a second career in outdoor writing.

His words have featured in national newspapers, international magazines, and on various websites. Major bylines include Financial Times, Daily Telegraph, Porsche, Outside Magazine, Rock and Ice, and Red Bull.

He holds two degrees in Exercise and Health Sciences, and a PhD in Public Health.

His areas of expertise are polar expeditions, mountaineering, hiking, and adventure travel. In his spare time Ash enjoys going on small independent sledding expeditions, outdoor photography, and reading adventure literature.

Read more at www.ashrouten.com or follow Ash via @ashrouten on Twitter and Instagram.