Here at ExWeb, when we're not outdoors, we get our adventure fix by exploring social media and the wider interweb. Sometimes we're a little too plugged in, and browsing interesting stories turns from minutes into hours. To nourish your own adventure fix, here are some of the best links we've discovered this week…
Dreamcatcher: An interesting snippet of the film depicting the adventurous life of Rune Gjeldnes, one of the great modern polar travelers.
Flying Doctor: Adventure and expedition medic Tash Burley features on the Terra Incognita podcast, where she recounts hanging out of helicopters and nighttime landings at remote bush airstrips lit by burning oil drums.
Ancient Mutts: Remains from Zhokhov Island in the Siberian Arctic have shown that trained sled dogs existed almost 10,000 years ago.
Climbing the Eiger: Alpinist has a webinar on climbing the infamous North Face of the Eiger with IFMGA guide Jeff Witton on July 28. It's free to watch, with email sign-up.
Dynamic Duo: The hotshot pair of Tommy Caldwell and Alex Honnold has established a lung-busting new linkup in Rocky Mountain National Park: 17 peaks, 11 named routes, 56km, and 6,000m of elevation gain.
Muir Revisited: The Sierra Club has recently apologized for the racist views of its celebrated founder, outdoorsman and conservationist John Muir.
About the Author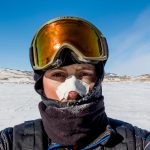 Ash Routen
Ash is an outdoor and adventure writer from the UK. He juggles a day job as a public health scientist with a second career in outdoor writing.

His words have featured in national newspapers, international magazines, and on various websites. Major bylines include Financial Times, Daily Telegraph, Porsche, Outside Magazine, Rock and Ice, and Red Bull.

He holds two degrees in Exercise and Health Sciences, and a PhD in Public Health.

His areas of expertise are polar expeditions, mountaineering, hiking, and adventure travel. In his spare time Ash enjoys going on small independent sledding expeditions, outdoor photography, and reading adventure literature.

Read more at www.ashrouten.com or follow Ash via @ashrouten on Twitter and Instagram.