Here at ExWeb, when we're not outdoors, we get our adventure fix by exploring social media and the wider interweb. Sometimes we're a little too plugged in, and browsing interesting stories turns from minutes into hours. To nourish your own adventure fix, here are some of the best links we've discovered this week…
Measure of Luck: From decades of climbing plus a stint playing long odds in Vietnam, climber Geof Childs considers four basic principles that mold the way climbers experience danger in the mountains.
Buried Alive: Continuing the ominous theme, this one profiles a skier swwept down into a remote streambed by an avalanche.
My Left Foot: With the news that Doug Scott faces inoperable brain cancer, it seems timely to be reminded of the British climber's classic sense of humor.
South Island: An excellent guide to all things climbing and mountaineering on New Zealand's South Island.
Mad Belgian: Louis Loncke is lugging heavy again, this time with a 48kg pack on an unsupported trek across the 800km Pyrenean Haute Route, from the Atlantic Ocean to the Mediterranean.
BASE: The new British adventure magazine, headed by climber Dave Pickford, has made two of its first three issues free to read online.
Young Pretenders: Climber and adventurer Leo Houlding's kids recently became the youngest to summit the iconic alpine peak, Piz Badile.
About the Author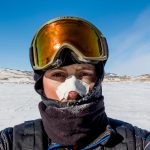 Ash Routen
Ash is an outdoor and adventure writer from the UK. He juggles a day job as a public health scientist with a second career in outdoor writing.

His words have featured in national newspapers, international magazines, and on various websites. Major bylines include Financial Times, Daily Telegraph, Porsche, Outside Magazine, Rock and Ice, and Red Bull.

He holds two degrees in Exercise and Health Sciences, and a PhD in Public Health.

His areas of expertise are polar expeditions, mountaineering, hiking, and adventure travel. In his spare time Ash enjoys going on small independent sledding expeditions, outdoor photography, and reading adventure literature.

Read more at www.ashrouten.com or follow Ash via @ashrouten on Twitter and Instagram.