Here at ExWeb, when we're not outdoors, we get our adventure fix by exploring social media and the wider interweb. Sometimes we're a little too plugged in, and browsing interesting stories turns from minutes into hours. To nourish your own adventure fix, here are some of the best links we've discovered this week…
Hudson Bay: The story of Renatus Tuglavina, remembered in northern Labrador as a folk hero who challenged the Hudson Bay Company, the fur-trading giant.
Round Britain: British photographer Quintin Lake has completed a (non-continuous) walk round the coast of Britain. It took five years, covered 10,000km and no doubt exhausted a good number of memory cards.
McMurdo Thanksgiving: A peek into life at the U.S. research station on Ross Island, Antarctica, during Thanksgiving. Featuring the Turkey Trot race, a manhauling competition, hearty food and even a pop-up nightclub.
Yosemite Closed: In the same week that President Trump interrupted the secretary of California's Natural Resources Agency to argue the climate "will start getting cooler", Yosemite shut down because of wild fires.
Homesick: Journalist Janet Manley considers the age-old question, where and what is home, through the context of isolation both created by COVID and on expeditions.
Arctic Roll: There's no polite way around this: Mike Horn did a really dumb thing recently by climbing on a small iceberg, which then proceeded to pitch over. Thankfully, he got away with it.
About the Author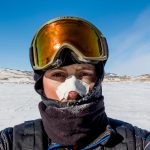 Ash Routen
Ash is an outdoor and adventure writer from the UK. He juggles a day job as a public health scientist with a second career in outdoor writing.

His words have featured in national newspapers, international magazines, and on various websites. Major bylines include Financial Times, Daily Telegraph, Porsche, Outside Magazine, Rock and Ice, and Red Bull.

He holds two degrees in Exercise and Health Sciences, and a PhD in Public Health.

His areas of expertise are polar expeditions, mountaineering, hiking, and adventure travel. In his spare time Ash enjoys going on small independent sledding expeditions, outdoor photography, and reading adventure literature.

Read more at www.ashrouten.com or follow Ash via @ashrouten on Twitter and Instagram.