Here at ExWeb, when we're not outdoors, we get our adventure fix by exploring social media and the wider interweb. Sometimes we're a little too plugged in, and browsing interesting stories turns from minutes into hours. To nourish your own adventure fix, here are some of the best links we've discovered this week…
Bear Witness: A celebration of the springtime emergence of polar bear cubs from their dens in Manitoba's Wapusk National Park, near Churchill.
The Diamond: Chris Weidner and Bruce Miller worked for four years on a new free climb up the Diamond, the northeast face of Longs Peak in Colorado. In this podcast, Weidner talks about the process and partnership that led to success on Colorado's most famous alpine wall.
Wildlife Photographer of the Year: This year's winner captured a Siberian tiger hugging an ancient Manchurian fir tree, rubbing her cheek against the bark. The photographer set up a series of motion-sensor cameras and waited more than 11 months to capture the intimate shot.
Finding Equilibrium: Tension, struggle and balance in the Alburni Mountains: Two slackliners go in search of long and high slacklining this past summer in Italy.
Cougar Guy: Kyle Burgess was on a trail run when he came upon a protective female mountain lion. Using his phone, he filmed her as she escorted him away from her cubs for six minutes. He had no idea that he'd just shot internet gold.
Sixty-Metre Fall: In September, climber Annie Weinmann took a 60m fall while soloing an easy chimney on Longs Peak. Here, she details the accident and dissects the decisions and events that led up to it.
About the Author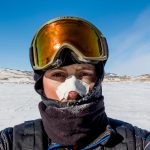 Ash Routen
Ash is an outdoor and adventure writer from the UK. He juggles a day job as a public health scientist with a second career in outdoor writing.

His words have featured in national newspapers, international magazines, and on various websites. Major bylines include Financial Times, Daily Telegraph, Porsche, Outside Magazine, Rock and Ice, and Red Bull.

He holds two degrees in Exercise and Health Sciences, and a PhD in Public Health.

His areas of expertise are polar expeditions, mountaineering, hiking, and adventure travel. In his spare time Ash enjoys going on small independent sledding expeditions, outdoor photography, and reading adventure literature.

Read more at www.ashrouten.com or follow Ash via @ashrouten on Twitter and Instagram.