Here at ExWeb, when we're not outdoors, we get our adventure fix by exploring social media and the wider interweb. Sometimes we're a little too plugged in, and browsing interesting stories turns from minutes into hours. To nourish your own adventure fix, here are some of the best links we've discovered this week…
Mount Everest Empties as Covid-19 Strikes Tourism in Nepal: The Himalayan country's economy has taken a blow from a lack of climbers and a plunge in remittances as infections spread.
Behind the Scenes of Emily Harrington's Historic Climb: This week, Emily Harrington became one of a small, elite group to free climb El Cap in a day.
Juggling Act: Claire Sheridan, one of the lesser known pioneers of women's climbing, has released a new memoir detailing how she combined life at the sharp end with a career and family life.
Ego Trips: Do you climb for yourself? Or do you climb for the attention, or even awards? As climbing approaches its debut at the Olympics, Doug Scott asks: How do awards fit with the high mountains?
A Top Canadian Climber's Struggles With Mental Illness: Mike Tschipper was one of Canada's leading rock climbers in the 1970s, but his life changed after experimenting with drugs at a party in 1982.
An Elaborate Hoax? Despite clear evidence, some people still believe that the moon landings were faked, in an elaborate hoax engineered by NASA (with Stanley Kubrick directing the fictional footage, no less). The New Yorker asks, who are the people that still believe this outlandish conspiracy?
About the Author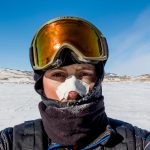 Ash Routen
Ash is an outdoor and adventure writer from the UK. He juggles a day job as a public health scientist with a second career in outdoor writing.

His words have featured in national newspapers, international magazines, and on various websites. Major bylines include Financial Times, Daily Telegraph, Porsche, Outside Magazine, Rock and Ice, and Red Bull.

He holds two degrees in Exercise and Health Sciences, and a PhD in Public Health.

His areas of expertise are polar expeditions, mountaineering, hiking, and adventure travel. In his spare time Ash enjoys going on small independent sledding expeditions, outdoor photography, and reading adventure literature.

Read more at www.ashrouten.com or follow Ash via @ashrouten on Twitter and Instagram.