This year, an unusually lonely Everest has been climbed only once, by a huge Chinese siege-style expedition with lots of O2, ropes and guided support. It also featured a scientific angle: re-measuring the height of Everest with cutting-edge, made-in-China technology. The goal was to complete (and probably outdo) a similar measuring operation that Nepal launched one year earlier, from its side of the mountain.
Luckily, what looked like a competition between the two Everest neighbors seems to have ended cooperatively. Publication is pending, but the final result will be a joint release.
The two expeditions contrasted starkly. While Chinese topographers enjoyed the mountain to themselves, as the rest of the word was locked down in their homes, the 2019 Nepalese team summited on the very day that Everest made headlines around the world for its crazy crowds.
The idea to remeasure Everest started after the 2015 earthquake seemingly altered its height. Nepal's Survey Department launched the Mount Everest Height Measurement Programme in spring 2019. It used a traditional trigonometric survey from 12 observation points around the mountain, plus precise leveling, a gravity survey and global satellite positioning. Ground-penetrating radar measured the depth of the summit ice cap, in order to ascertain the peak's actual land-based height.
Recently, head surveyor Khim Lal Gautam recounted the difficult climb, burdened with surveying equipment, and the epic descent that followed. The team left Base Camp on May 18 and reached the South Col two days later. Pressured by the narrow weather window and the crowds on the mountain, they set off toward the summit at 2pm, 10 hours ahead of most climbers' midnight departure. They reached the top at 3am, still the middle of the night.
"It was pitch dark, very windy, and I was utterly exhausted after 13 straight hours of trudging," Gautham recalled. Still, within two hours they had managed to gather the necessary data.
At 4am, halfway into their work, the crowds started arriving. The surveyors began to descend at 5am. Then they were caught in the traffic jam at the Hillary Step.
"We had to wait two hours for our turn on the one-way route," Gautam said. Exhaustion soon took over, and he dropped unconscious at 8,200m. "I must have lain there on the blue ice for two hours, until another climber kicked me to see if I was alive," he said.
Somehow, everyone made it back down alive, but those two hours cost Gautam a toe, which had frozen during his ordeal and later had to be amputated at the hospital in Kathmandu.
That day, a record number of climbers summited Everest from the Nepal side. During those long delays at the Hillary Step, climbers ran out of oxygen. Eleven people died that season, eight of them between May 22 and 25, mostly from exhaustion and exposure.
The famous photo by Nirmal Purja showing a conga line at the Hillary Step caused a wave of criticism. Most lamented that Everest, this paradigm of adventure and challenge, had devolved into a sad circus, a graveyard for human vanity or as climber Elia Saikali put it, "chaos and carnage."
For many others who made it down injured and frozen, it was a hard lesson learned. In Gautan's case, his close call and lost toe symbolized the stature of Everest better than any number. But according to the stoic surveyor, the risk was worth it, "not only because of successful completion of this historic mission, but also for the qualitative raw data [that will let us] get the precise height of Mount Everest."
You can read his whole report here.
About the Author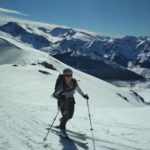 Angela Benavides
Senior journalist, published author and communication consultant. Specialized on high-altitude mountaineering, with an interest for everything around the mountains: from economics to geopolitics. After five years exploring distant professional ranges, I returned to ExWeb BC in 2018. Feeling right at home since then!