Here at ExWeb, when we're not outdoors, we get our adventure fix by exploring social media and the wider interweb. Sometimes we're a little too plugged in, and browsing interesting stories turns from minutes into hours. To nourish your own adventure fix, here are some of the best links we've discovered this week…
Narwhal Massacre: In this video, photographer and conservationist Paul Nicklen looks back on what he calls his hardest assignment to date: covering the killing of hundreds of narwhal annually by local Inuit. Most simply sell the tusk and leave roughly 1,400kg of meat to rot.
Hamish MacInnes: An excellent short bio on the recently deceased Scottish climber, penned by his old climbing friend, Rusty Baillie.
Under the Open Skies: When injury ended a  promising ultra runner's career, he decided to move to Sweden's Jämtland forest. For four years, in perfect solitude and harmony with nature, he lived in a hut he built by hand, slept on reindeer skins, and survived on oatmeal, berries, and fish.
Christmas at the Devil's Portage: A hundred years ago, Royal Canadian Geographical Society founder Charles Camsell wrote a Christmas story that has been shared through his family for generations. In honor of the Society's 90th anniversary, his family shared it for the first time.
Biggest Iceberg: A British Royal Air Force aircraft has obtained images of the world's biggest iceberg as it drifts through the South Atlantic.
My narrow escape in the Italian Alps: A personal account of a near-fatal hiking accident.
Half-man, half-fish: Legend has it that Madagascar's nomadic Vezo fishermen can spend several minutes underwater with a single breath. Photographer James Patrick joins them in an attempt to separate fact from fiction.
About the Author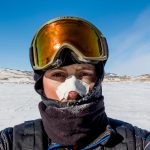 Ash Routen
Ash is an outdoor and adventure writer from the UK. He juggles a day job as a public health scientist with a second career in outdoor writing.

His words have featured in national newspapers, international magazines, and on various websites. Major bylines include Financial Times, Daily Telegraph, Porsche, Outside Magazine, Rock and Ice, and Red Bull.

He holds two degrees in Exercise and Health Sciences, and a PhD in Public Health.

His areas of expertise are polar expeditions, mountaineering, hiking, and adventure travel. In his spare time Ash enjoys going on small independent sledding expeditions, outdoor photography, and reading adventure literature.

Read more at www.ashrouten.com or follow Ash via @ashrouten on Twitter and Instagram.