It took Tobias Baumgaertner three nights to nail this award-winning photo of two widowed fairy penguins near Melbourne, Australia, seemingly comforting each other against a background of what look like Christmas lights.
Fairy penguins are the smallest species of penguin, averaging just 33cm high. A colony of some 1,400 live near the city's St Kilda Pier.
"The white one was an elderly lady who had lost her partner, and apparently so did the younger male to the left," the German photographer explained. "Since then, they meet regularly, comforting each other and standing together for hours watching the dancing lights of the nearby city."
The sweet, seasonal evocation of family and friendship suggests why the penguin, at times so human-like in its antics, has long been the world's most popular bird and a favorite with professional photographers since the Golden Age of Exploration.
About the Author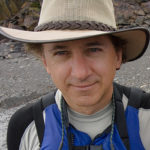 Jerry Kobalenko
Jerry Kobalenko is the editor of ExplorersWeb. Canada's premier arctic traveler, he is the author of The Horizontal Everest and Arctic Eden, and is currently working on a book about adventures in Labrador. In 2018, he was awarded the Polar Medal by the Governor General of Canada.