Here at ExWeb, when we're not outdoors, we get our adventure fix by exploring social media and the wider interweb. Sometimes we're a little too plugged in, and browsing interesting stories turn from minutes into hours. To nourish your own adventure fix, here are some of the best links we've discovered this week…
A Defiant Move to the Norwegian Arctic: Two female polar travelers have been living in a tiny trapper's cabin on Svalbard since 2019 in an effort to rouse a global dialogue on climate change.
Sailing Cargo Ships Help Clean up the Ocean: Ethically minded entrepreneurs are turning back the clock to sweep the scourge of bunker fuel from the oceans.
Bernadette McDonald on Winter K2: The award-winning mountain historian weighs in on one of the most talked-about mountaineering achievements of recent years.
Women Rise Up: The Alpine Club has opened applications for attendees to join a trip to Switzerland to travel and climb in the footsteps of Lucy Walker and Meta Brevoort. In 1871, they made the first female ascents of a number of iconic European peaks, including the Matterhorn and the Dents Blanche.
Extinction: Alpine flowers could go extinct after glaciers disappear, as more competitive species colonize terrain usually too severe for them.
Nims Talks: In an exclusive for Rock and Ice, Nirmal Purja gives little away about his recent no-02 ascent of K2 in winter.
About the Author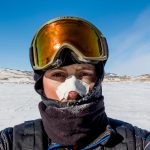 Ash Routen
Ash is an outdoor and adventure writer from the UK. He juggles a day job as a public health scientist with a second career in outdoor writing.

His words have featured in national newspapers, international magazines, and on various websites. Major bylines include Financial Times, Daily Telegraph, Porsche, Outside Magazine, Rock and Ice, and Red Bull.

He holds two degrees in Exercise and Health Sciences, and a PhD in Public Health.

His areas of expertise are polar expeditions, mountaineering, hiking, and adventure travel. In his spare time Ash enjoys going on small independent sledding expeditions, outdoor photography, and reading adventure literature.

Read more at www.ashrouten.com or follow Ash via @ashrouten on Twitter and Instagram.