Here at ExWeb, when we're not outdoors, we get our adventure fix by exploring social media and the wider interweb. Sometimes we're a little too plugged in, and browsing interesting stories turn from minutes into hours. To nourish your own adventure fix, here are some of the best links we've discovered this week.
Finding Tom Ballard: Nearly two years after Tom Ballard's death on Nanga Parbat with Daniele Nardi, Michael Levy at Rock and Ice retraces the life of an icon's son. A superb profile of the late alpinist.
A Climbing Disaster Interrupted by a Love Story: When a group of friends set out to climb Mount Rainier, they felt like they were ready for anything. But on the upper slopes of the peak, trouble found them. Out of their darkest moments, something magical grew. A riveting podcast from Outside.
Are the Himalayas an Untapped Gold Mine for Powder Skiing? After 75 expeditions to the range, ExWeb regular Luke Smithwick says they hold unreal potential.
A High-Seas Tale of Polar Adventure: This is a murky, maritime tale of tax havens, flags of convenience, convoluted multi-party ownership, arcane law, alleged conspiracies, even terrorism.
A Plane Crash and 80 Days in the Alaskan Winter: From December 1943 until March 1944, Leon Crane spent nearly three months in midwinter amid icy rivers, freezing winds, and bottomless temperatures with almost no provisions or equipment.
25 Years for Verndasky Station: Recently the only Ukrainian Antarctic station celebrated its 25th anniversary. It had been purchased for the princely sum of £1 from the British, who had originally established the base.
About the Author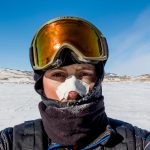 Ash Routen
Ash is an outdoor and adventure writer from the UK. He juggles a day job as a public health scientist with a second career in outdoor writing.

His words have featured in national newspapers, international magazines, and on various websites. Major bylines include Financial Times, Daily Telegraph, Porsche, Outside Magazine, Rock and Ice, and Red Bull.

He holds two degrees in Exercise and Health Sciences, and a PhD in Public Health.

His areas of expertise are polar expeditions, mountaineering, hiking, and adventure travel. In his spare time Ash enjoys going on small independent sledding expeditions, outdoor photography, and reading adventure literature.

Read more at www.ashrouten.com or follow Ash via @ashrouten on Twitter and Instagram.