The Italian runner and ski racer covered the equivalent of five Everest climbs from Base Camp to the summit in a single day.
Further to the COVID-related trend in which endurance athletes have turned their competition-starved energy to setting Fastest Known Times and other world bests, Italian skier Martina Valmassoi, 31, has broken the women's 24-hour uphill ski record.
On March 21-22 she skied for 23 hours and 44 minutes and climbed a remarkable 17,645m. Rea Kobl set the previous record of 16,777m earlier this year.
Valmassoi broke the record on Monte Agudo in the Italian Dolomites. The ski mountaineering racer and mountain runner began at 5 pm on March 21 and skied up and down the 725m hill 25 times.
During the night, she used a headlamp and skied with a friend. "This is the proudest result in my athletic career," she said afterward.
Unlike many other world record attempts, several elements of her preparation came together at the last minute. "I planned my nutrition and my gear the morning of the attempt," she told Strava. "I had no clue about calorie consumption so I just tried to be sure I had food every hour."
While skiing with a friend in January, it occurred to her that this was her 50th consecutive day on skis, something she had never done before. She decided to "try something crazy, like skiing for 24 hours just to see what happens."
As she spends so much time on her boards, she did no specific training, apart from a 5,000m test run four weeks before the event, to see if she had selected the right slope and how she felt.
Valmassio spoke to Trail Runner about the difficulties she faced planning a ski record attempt during a pandemic.
"Up to the start, I wasn't sure we could do it, because of the situation with COVID here in Italy," she said. "I told friends of my plans, of course, but otherwise I kept it quiet. I had to give names of people who would be allowed there for support. I had to ask the mayor if the hut at the top could stay open for us. He gave permission. That was really cool of him."
About the Author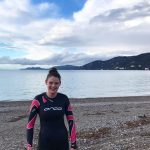 Rebecca is a freelance writer and science teacher based in the UK.

She is a keen traveler and has been lucky enough to backpack her way around Africa, South America, and Asia. With a background in marine biology, she is interested in everything to do with the oceans and aims to dive and open-water swim in as many seas as possible.

Her areas of expertise include open water sports, marine wildlife and adventure travel.