Currently engaged in a dramatic rescue mission on Nanga Parbat, Denis Urubko has for the last week been setting up Camp 2 on K2, at 6,300m in strong winds. Here is his report on his work and the status of the team.
Denis Urubko is a part of the star-studded team currently attempting to be the first expedition to reach the summit of K2 during winter. A formidable challenge, K2 is arguably the last of the 8,000m peaks to remain unsummited during the winter period. Denis has just sent through a short update on their progress, kindly passed on and translated to English by our friend Elena at Russian Climb.
Denis Urubko:
Some of the team members have been ill. So, I was obliged to start alone. However, it's been a pleasure working. I've set up Camp 1 at 5,900m. Without resting, I immediately went up to fix the next set of ropes. It proved very difficult to belay myself. Fortunately I found old ropes and managed to dig them out of the ice. In places I was forced to climb only with my ice-axes. Eventually all the work was finished off and in beautiful sunlight I descended to Camp 1.
Weather forecasts don't predict any clear conditions yet. Winds of between 40 and 50 km/h had been predicted and I was almost swept off while spending a night in Camp 1. I was forced to sleep in the harness attached to the fixed ropes.
The next morning I started at 9am, understanding that it would be difficult to fix new ropes carrying heavy bivouac equipment, I simply dug myself out and then checked and spliced the old ropes. By 1pm I had reached the location we were planning to use for Camp 2. At 6,300m I set up the tent, but with strong winds this took over an hour and a half. In the end I only managed to fix a tent for half of a person, but it's enough to keep someone alive.
The tent shook violently during the night, but I managed to sleep enough, and, just after the sunrise, I began to rappel back to base camp. I arrived at about 10:30am.
The next steps will be for Adam and Marek to spend the night in Camp 2, while Artur and the Pakistani HAPs descended to base camp. Marcin and Maciej will stay at Camp 1 before heading up to Camp 2 tomorrow. Piotr and Raf will also join them in Camp 2 tomorrow. Meanwhile I'm allowed to rest for now! The team gave me some Nutella, they clearly know what is required to keep me happy!
Previous / Links:
Interview: Denis Urubko on Winter Ascent of K2
Janusz Majer on the winter expedition to K2
Interview: Simone Moro on Winter K2
K2: How to climb the killer mountain
About the Author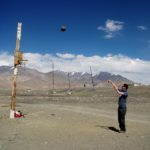 Martin Walsh
Martin Walsh is a freelance writer and wildlife photographer based in Da Lat, Vietnam.

A history graduate from the University of Nottingham, Martin's career arc is something of a smörgåsbord. A largely unsuccessful basketball coach in Zimbabwe and the Indian Himalaya, a reluctant business lobbyist in London, and an interior design project manager in Saigon.

He has been fortunate enough to see some of the world. Highlights include tracking tigers on foot in Nepal, white-water rafting the Nile, bumbling his way from London to Istanbul on a bicycle, feeding wild hyenas with his face in Ethiopia, and accidentally interviewing Hezbollah in Lebanon.

His areas of expertise include adventure travel, hiking, wildlife, and half-forgotten early 2000s indie-rock bands.