Last month, experienced Himalayan alpinist and guide Luke Smithwick travelled to the northern Himalaya to lead a climb of Labuche Kang III East, a virgin peak standing at 7,250 meters.
The five-strong multinational team spent some time acclimatizing in Nepal on trekking peaks, before flying to Tibet in early May. After a few days in Lhasa, they moved on to base camp, which is within 40km of the well known eight-thousander Cho Oyu.
Smithwick approached the climb 'expedition style' by fixing ropes up the northern flanks of the peak alongside two climbing Sherpas, then the rest of the team followed. Advanced Base Camp was set at 5,258 meters, Camp One at 5,751, Camp Two a little higher at 5,995 meters, with the final Camp (Three) at 6,276 meters.
Smithwick reported that crossing the terrain from Advanced Base Camp entailed hard work up a lateral moraine to Camp One, followed by running a gauntlet of seracs to  Camp Two. Further risk awaited en route to Camp Three, with severe crevasse danger.
The team made good progress, fixing ropes up steep headwall, and were within tantalizing sight of the top early on May 20:
We turned around only 400 meters from the summit after climbing for 8 hours up a blue ice wall that averaged 40 degrees in steepness.  I felt OK and able to go on… along with the two Sherpas I was working with, however our group was fairly exhausted collectively, and I was guiding, so we retreated to our Camp Three at 6,276 meters (20,486 feet).
A forecast of bad weather also influenced their decision to retreat. But those weather reports that suggested the group needed to summit by May 21 at the latest proved wrong, and the predicted storms never arrived.
In total, the team recorded 17 crevasse falls, although none were considered "big". Smithwick also said that they fell into water on the glacier 24 times. "You will not summit this mountain easily," he concluded. Nevertheless, the prolific American climber plans to return to Labuche Kang III East, possibly as early as September.
The team had earlier believed the mountain was the highest open unclimbed peak in the world, but further research has revealed that Muchu Chhish in Pakistan at 7,452 meters is higher. However, not everyone, including Smithwick, believes that Muchu Chhish is prominent enough to be considered a separate peak.
[Ed: June 4. This story has been edited to reflect that Kabru, a peak on the India-Nepal border, has recently been climbed and that the jury is still out about whether Muchu Chhish is an independent peak. For a discussion of mountain prominence, see Prominence or Dominance: What Makes a Mountain]
About the Author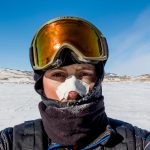 Ash Routen
Ash is an outdoor and adventure writer from the UK. He juggles a day job as a public health scientist with a second career in outdoor writing.

His words have featured in national newspapers, international magazines, and on various websites. Major bylines include Financial Times, Daily Telegraph, Porsche, Outside Magazine, Rock and Ice, and Red Bull.

He holds two degrees in Exercise and Health Sciences, and a PhD in Public Health.

His areas of expertise are polar expeditions, mountaineering, hiking, and adventure travel. In his spare time Ash enjoys going on small independent sledding expeditions, outdoor photography, and reading adventure literature.

Read more at www.ashrouten.com or follow Ash via @ashrouten on Twitter and Instagram.