Back in 2006, a modest and humble Scotsman sent shock waves through the climbing world. Dave MacLeod, or 'Dumby Dave' to his friends, had sent what was then regarded as the world's hardest traditional rock climb, at Dumbarton Rocks in Scotland. Graded British E11 7a, or 5.14-5.15, he christened it "Rhapsody" .
In the decade since, MacLeod has pushed limits across all disciplines of climbing. He was the first to free solo 8c (5.14b), and he set a new route on the North Wall of the Eiger. He's excelled at sport, trad and winter climbing, as well as bouldering and alpine routes. Few can claim to have hit such standards across the board, and still fewer have achieved this by climbing predominantly in their own back yard.
So it was no surprise when this past March, MacLeod completed a long-term project he dubbed the 24/8 challenge: Within 24 hours, he climbed a Font 8A+ boulder problem, an E8 trad route (5.13b/c), an 8a sport route, a VIII, 8 winter routes and 8 Munros. (A Munro is any mountain in Scotland over 3,000 feet high.) All these elements were within reach of MacLeod's home in the Scottish Highlands.
Before tackling the mammoth outing, MacLeod had to wait for a rare perfect alignment of weather and conditions in all of the disciplines at the same time. He started off with the sport route and finished with walking the 8 Scottish mountains. A decade of patience paid off when he finished at 1:20 am, some 18.5 hours after starting.
A video of the 24/8 challenge has just been made available online.
About the Author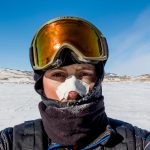 Ash Routen
Ash is an outdoor and adventure writer from the UK. He juggles a day job as a public health scientist with a second career in outdoor writing.

His words have featured in national newspapers, international magazines, and on various websites. Major bylines include Financial Times, Daily Telegraph, Porsche, Outside Magazine, Rock and Ice, and Red Bull.

He holds two degrees in Exercise and Health Sciences, and a PhD in Public Health.

His areas of expertise are polar expeditions, mountaineering, hiking, and adventure travel. In his spare time Ash enjoys going on small independent sledding expeditions, outdoor photography, and reading adventure literature.

Read more at www.ashrouten.com or follow Ash via @ashrouten on Twitter and Instagram.