Last week, three South Korean climbers, led by Eun Soo Koo, were swept downslope by an avalanche on the North Face of Latok I (7,145m) in the Karakorum. Two of them sustained serious back, rib and shoulder injuries.
Bad weather forced the rescue helicopter to wait nearly 24 hours before it could extract the stricken men. Finally, on June 22, they were evacuated to the hospital in Skardu, the last stop in Pakistan before the Karakorum.
About the Author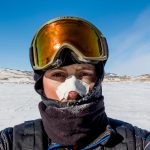 Ash Routen
Ash is an outdoor and adventure writer from the UK. He juggles a day job as a public health scientist with a second career in outdoor writing.

His words have featured in national newspapers, international magazines, and on various websites. Major bylines include Financial Times, Daily Telegraph, Porsche, Outside Magazine, Rock and Ice, and Red Bull.

He holds two degrees in Exercise and Health Sciences, and a PhD in Public Health.

His areas of expertise are polar expeditions, mountaineering, hiking, and adventure travel. In his spare time Ash enjoys going on small independent sledding expeditions, outdoor photography, and reading adventure literature.

Read more at www.ashrouten.com or follow Ash via @ashrouten on Twitter and Instagram.