Mike Horn has abandoned on Nanga Parbat.
The South African adventurer had been taking a break from his Pole2Pole project, a circumnavigation of the world via the polar regions, to climb Nanga Parbat in Pakistan. He arrived at Base Camp in early June, but for almost two weeks, southwest winds hammered the upper slopes, bringing in a great deal of snow and significantly increasing the risk of avalanches.
Horn reported that his expedition team could safely climb to approximately 6,000m, but no higher. The weather forecast continued looked bleak, so late last week, they removed their equipment deposits and returned to Islamabad.
About the Author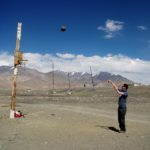 Martin Walsh
Martin Walsh is a freelance writer and wildlife photographer based in Da Lat, Vietnam.

A history graduate from the University of Nottingham, Martin's career arc is something of a smörgåsbord. A largely unsuccessful basketball coach in Zimbabwe and the Indian Himalaya, a reluctant business lobbyist in London, and an interior design project manager in Saigon.

He has been fortunate enough to see some of the world. Highlights include tracking tigers on foot in Nepal, white-water rafting the Nile, bumbling his way from London to Istanbul on a bicycle, feeding wild hyenas with his face in Ethiopia, and accidentally interviewing Hezbollah in Lebanon.

His areas of expertise include adventure travel, hiking, wildlife, and half-forgotten early 2000s indie-rock bands.