Today, K2 had 31 climbers on its lofty summit, more than it has ever had in a single day, according to most sources. It exceeded the previous confirmed high of 28 from 2012, although one site reports that July 26, 2014 topped even today, with 33 summits. To be confirmed…
Among today's successes is a team led by the formidable Chhang Dawa Sherpa, who has climbed all the 8,000'ers and scaled K2 itself seven times. With good conditions on their side and a strong leader at the helm, the international medley of climbers from China, Nepal, Mongolia, Pakistan, Japan, Ireland, Switzerland and Mexico have now begun their descent.
The Madison team's route. Photo: Garrett Madison
As of now, there are a further seven teams dispersed between C3 and 4. Unfortunately, thick clouds during the past four days have forced these later teams to remain longer at debilitating altitudes than planned. However, they have now safely arrived at C4, have rested, refueled and are continuing their ascent tonight in clear conditions. They expect to reach the summit by 9am tomorrow, if the weather holds.
Madison team at C3. Photo: Garrett Madison
The other teams en route include a Japanese expedition at C3 and a Pakistani team moving on to C4. Their exhausting stay at altitude has put a temporary hold on their immediate summit ambitions, but spirits remain high that they can recover in time to join this season's many other K2 successes.
About the Author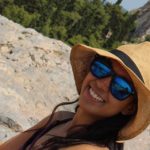 Kristine De Abreu
Kristine De Abreu is a writer (and occasional photographer) based in sunny Trinidad and Tobago.

Since graduating from the University of Leicester with a BA in English and History, she has pursued a full-time writing career, exploring multiple niches before settling on travel and exploration. While studying for an additional diploma in travel journalism with the British College of Journalism, she began writing for ExWeb.

Currently, she works at a travel magazine in Trinidad as an editorial assistant and is also ExWeb's Weird Wonder Woman, reporting on the world's natural oddities as well as general stories from the world of exploration.

Although she isn't a climber (yet!), she hikes in the bush, has been known to make friends with iguanas and quote the Lord of the Rings trilogy from start to finish.