While Andrzej Bargiel climbed K2 this past weekend, then completed the first ski descent down its radically steep slopes, his brother Bartek — a professional drone operator — was filming the historic event from the air.
As noted in a previous ExWeb piece, Bartek's footage had recently a hand in rescuing stricken climber Rick Allen, whom the drone located high on Broad Peak.
Yesterday, when his brother reached the top of K2 and strapped on his skis, preparing to hurtle downward, Bartek's drone followed him to the very summit of K2, where it landed. This must surely be a record altitude for a drone flight.
On the Instagram post below, you can view the remarkable footage from the top of K2.
In addition, Red Bull has released a longer video cut and a selection of stills from the Bargiel team.








Bargiel at K2 Base Camp shortly after his historic first ski descent. Photo: Red Bull
All Photos: Red Bull Content Pool
About the Author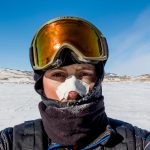 Ash Routen
Ash is an outdoor and adventure writer from the UK. He juggles a day job as a public health scientist with a second career in outdoor writing.

His words have featured in national newspapers, international magazines, and on various websites. Major bylines include Financial Times, Daily Telegraph, Porsche, Outside Magazine, Rock and Ice, and Red Bull.

He holds two degrees in Exercise and Health Sciences, and a PhD in Public Health.

His areas of expertise are polar expeditions, mountaineering, hiking, and adventure travel. In his spare time Ash enjoys going on small independent sledding expeditions, outdoor photography, and reading adventure literature.

Read more at www.ashrouten.com or follow Ash via @ashrouten on Twitter and Instagram.