Eight Polish climbers have abandoned their climb of a classic route on Manaslu. Led by Rafal Fronia, they were tackling a 1986 line put up by compatriots Jerzy Kukuczka and Artur Hajzer. The route tops both Manaslu East (7,992) and the main 8,163m summit in one push.
The group had completed acclimatization rotations and established three camps, the highest at 7,200m. But hazardous conditions thwarted their designs on the last 900m. Writing on social media, Fronia said:
"Over the last three days, more than a meter of unexpected snow has fallen, which has caused high avalanche risk. Yesterday, one team tried for 15 hours to reach Camp 2, with several close calls from avalanches. The climbers found Camp 2 completely buried in  snow and they had to retreat to Camp 1 overnight. Forecasts threaten strong winds and further heavy precipitation. As a result, we are aborting our mountain activities."
The team was using this post-monsoon expedition as training for a K2 Winter climb in 2019-20.

Links and Acknowledgements
Thanks to Piotr Chmielinski for translating the social media updates.
The Greatest Goal: Teams Prep for Winter K2
About the Author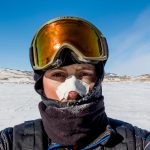 Ash Routen
Ash is an outdoor and adventure writer from the UK. He juggles a day job as a public health scientist with a second career in outdoor writing.

His words have featured in national newspapers, international magazines, and on various websites. Major bylines include Financial Times, Daily Telegraph, Porsche, Outside Magazine, Rock and Ice, and Red Bull.

He holds two degrees in Exercise and Health Sciences, and a PhD in Public Health.

His areas of expertise are polar expeditions, mountaineering, hiking, and adventure travel. In his spare time Ash enjoys going on small independent sledding expeditions, outdoor photography, and reading adventure literature.

Read more at www.ashrouten.com or follow Ash via @ashrouten on Twitter and Instagram.