"First time I saw Devil's Tower was in a flash of lightning on a dark night. Even from a distance, it looked like Frankenstein's castle or Dracula's Palace." — Frank Sanders
At the base of 265m Devils Tower in Wyoming lives Frank Sanders, a quirky, 60-something climbing guide with a penchant for the dramatic. Frank and the Tower tells the story of Sander's decades-long relationship with this fluted outcrop of igneous rock, famously featured in Close Encounters of the Third Kind.
Since first clapping eyes on the Tower in the early 1970s, Sanders has crafted his way up its vertiginous slopes more than 2,000 times, mainly by guiding Tower first-timers. He calls it, "The best job, the best way to spend life that I have yet found by a long shot."
Some dark memories rear up: At one point he recalls being drunk for 33 days straight, with no inclination to stop. And despite climbing all across North America, Devils Tower was, ironically, the one place that could quell Sanders' demons.
Mixing interview scenes with tomfoolery and climbing action, the film is a great start to the weekend.
About the Author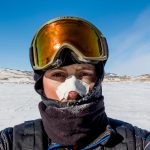 Ash Routen
Ash is an outdoor and adventure writer from the UK. He juggles a day job as a public health scientist with a second career in outdoor writing.

His words have featured in national newspapers, international magazines, and on various websites. Major bylines include Financial Times, Daily Telegraph, Porsche, Outside Magazine, Rock and Ice, and Red Bull.

He holds two degrees in Exercise and Health Sciences, and a PhD in Public Health.

His areas of expertise are polar expeditions, mountaineering, hiking, and adventure travel. In his spare time Ash enjoys going on small independent sledding expeditions, outdoor photography, and reading adventure literature.

Read more at www.ashrouten.com or follow Ash via @ashrouten on Twitter and Instagram.