Heavy snow has led Lonnie Dupre to quit his fourth attempt to solo Mount Hunter in winter. Over 20 metres of snow have plastered the Alaska Range, with more to come.
Flying onto the glacier at the foot of the mountain on January 8, he recce'd his route by air, then began skiing across the glacier that hugs the mountain's lower slopes. This did not look safe, as the icefall was too heavily broken for solo travel. He then tried the northwest basin variation of the west ridge, the same route that rebuffed him in 2017 and 18. He made some progress, and by January 10 he was able to deposit nine days of food at a camp midway up an icefall on the west ridge.
However, on January 11, seracs and avalanche risk again prompted him to reassess. On January 13, he called for a pickup and is now back in Talkeetna.
Hunter remains unclimbed solo and in winter. If Dupre keeps at it, as seems to be his strategy, he should eventually hit a good year, as he did on his fourth try at winter Denali.
Related Articles:
Dupre Tries Again to Solo Alaska's Mt. Hunter
Dupre Solos Denali in Winter on the Fourth Try
About the Author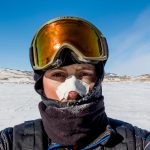 Ash Routen
Ash is an outdoor and adventure writer from the UK. He juggles a day job as a public health scientist with a second career in outdoor writing.

His words have featured in national newspapers, international magazines, and on various websites. Major bylines include Financial Times, Daily Telegraph, Porsche, Outside Magazine, Rock and Ice, and Red Bull.

He holds two degrees in Exercise and Health Sciences, and a PhD in Public Health.

His areas of expertise are polar expeditions, mountaineering, hiking, and adventure travel. In his spare time Ash enjoys going on small independent sledding expeditions, outdoor photography, and reading adventure literature.

Read more at www.ashrouten.com or follow Ash via @ashrouten on Twitter and Instagram.