For the past six days, fans of Himalayan mountaineering have held their breath as Sergey Nilov and Dimitry Golovchenko slowly made their way down the treacherous Southwestern side of 7,710m Mount Jannu.
Although winds were low, poor visibility up high made route finding difficult. They had to rely on their Base Camp team, who could study the lower part of their descent route, where visibility was better, and advise the climbers by radio how best to find their way down the unknown terrain.
Today, the Russian pair have finally met up with a member of their support team, Elisa Kubarska, on a glacier at around 5,000m. After 18 days at high altitude on the mountain, they are no doubt relieved to tuck into fresh food and ample water.
The trio will now descend the Jeunes and Yamatari Glaciers to the village of Ghunsa, at 3,475m.
Although they didn't summit, Nilov and Golovchenko made the first ascent of a prominent line, but missed out bagging their real prize, the headwall up the Southeast Face of Jannu.
About the Author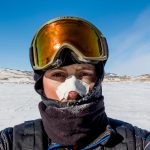 Ash Routen
Ash is an outdoor and adventure writer from the UK. He juggles a day job as a public health scientist with a second career in outdoor writing.

His words have featured in national newspapers, international magazines, and on various websites. Major bylines include Financial Times, Daily Telegraph, Porsche, Outside Magazine, Rock and Ice, and Red Bull.

He holds two degrees in Exercise and Health Sciences, and a PhD in Public Health.

His areas of expertise are polar expeditions, mountaineering, hiking, and adventure travel. In his spare time Ash enjoys going on small independent sledding expeditions, outdoor photography, and reading adventure literature.

Read more at www.ashrouten.com or follow Ash via @ashrouten on Twitter and Instagram.