Three of the world's most talented alpinists, Austrians David Lama and Hansjörg Auer, and American Jess Roskelley are missing and feared dead following a huge avalanche on Howse Peak (3,295m) in the Canadian Rockies.
The trio are believed to have been hit by the avalanche on April 17 while climbing a route called M16, first put up by Barry Blanchard, Scott Backes and Steve House in 1999.
Roskelley's father John, a leading mountaineer of his own generation, alerted rescue services when his son didn't call as expected yesterday evening. A search helicopter spotted avalanche debris, climbing gear and one partially buried body.
Writing on social media, Roskelley said that the trio are presumed dead: "I know from speaking with the Park Service and rescue personnel yesterday that Jess, David and Hansjörg are presumed dead. It is with a heavy heart I have to say this, but they were hit by a massive avalanche off Mt. Howse sometime on Tuesday, and there was visible evidence they perished."
Roskelley, who himself climbed Howse Peak in the 1970s, continued: "It's in an area above a basin. There must have been a lot of snow that came down and got them off the face…It's just one of those routes where you have to have the right conditions or it turns into a nightmare. This is one of those trips where it turned into a nightmare."
Thirty-five-year old Auer and 28-year-old Lama headed out to the Rockies in early April. In the last 10 days, alongside Roskelley, the Austrian pair climbed a hard route on the Northeast Face of Mount Andromeda.
Avalanche conditions have been high in the Canadian Rockies this spring, with many locals staying out of the backcountry during what is usually a safer time of year. However, conditions in that area were moderate at the time of the accident.
About the Author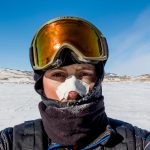 Ash Routen
Ash is an outdoor and adventure writer from the UK. He juggles a day job as a public health scientist with a second career in outdoor writing.

His words have featured in national newspapers, international magazines, and on various websites. Major bylines include Financial Times, Daily Telegraph, Porsche, Outside Magazine, Rock and Ice, and Red Bull.

He holds two degrees in Exercise and Health Sciences, and a PhD in Public Health.

His areas of expertise are polar expeditions, mountaineering, hiking, and adventure travel. In his spare time Ash enjoys going on small independent sledding expeditions, outdoor photography, and reading adventure literature.

Read more at www.ashrouten.com or follow Ash via @ashrouten on Twitter and Instagram.