"Kat starts grinding into an off-width and then this whole other screaming beastly side just takes over." — Jenny Fischer
A famed British climber once said "If you're not climbing new routes, you're just jackin'." While many dream of making climbing history in some small way, few get the chance to do so. The Live Your Dream grant, awarded by the American Alpine Club, aims to help everyday climbers push their abilities to the next level.
Americans Jenny Fischer and Kat Whipple bagged one of these grants to kick their burgeoning first-ascent career with a route-hunting trip to Limling, a "best-kept secret" tucked away in Yunnan province, in southwest China.
Far Away takes up the story in Limling, with the dynamic duo who are excellent on camera, scoping nearby cliffs for untouched cracks. Like the British "Wide Boyz" Tom Randall and Pete Whittaker, Fischer and Whipple have a penchant for struggling up heinous looking off-widths.
Their first foray goes awry when Fischer solos up to a small ledge and needs a rope for self-rescue. They return to Limling, their tails between their legs, and hatch a plan to head out to the "Far Away Buttress", the furthest rock from the village.
They spot a line that matches their thirst for crack heaven. What ensues is a multiple day love-hate relationship, as they battle the stubborn route. There's laughing, shouting, screaming and despair aplenty from the pair. This 20-minute film will leave you wanting to see more of Fischer, Whipple and esoteric Chinese rock climbs.
About the Author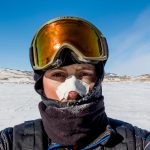 Ash Routen
Ash is an outdoor and adventure writer from the UK. He juggles a day job as a public health scientist with a second career in outdoor writing.

His words have featured in national newspapers, international magazines, and on various websites. Major bylines include Financial Times, Daily Telegraph, Porsche, Outside Magazine, Rock and Ice, and Red Bull.

He holds two degrees in Exercise and Health Sciences, and a PhD in Public Health.

His areas of expertise are polar expeditions, mountaineering, hiking, and adventure travel. In his spare time Ash enjoys going on small independent sledding expeditions, outdoor photography, and reading adventure literature.

Read more at www.ashrouten.com or follow Ash via @ashrouten on Twitter and Instagram.