Yesterday, Parks Canada, the Canadian National Parks agency, recovered the bodies of David Lama, Jess Roskelley and Hansjörg Auer.
Poor weather and dangerous snow conditions delayed the immediate retrieval of the avalanche victims from 3,295m Howse Peak.
When the trio first went missing, a helicopter rescue crew observed "signs of multiple avalanches and debris containing climbing equipment," according to Parks Canada.
The avalanche which killed the three world-class climbers was estimated as Size 3, which has the force to bury a car or destroy a small wooden building.
About the Author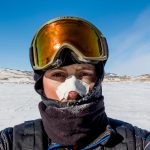 Ash Routen
Ash is an outdoor and adventure writer from the UK. He juggles a day job as a public health scientist with a second career in outdoor writing.

His words have featured in national newspapers, international magazines, and on various websites. Major bylines include Financial Times, Daily Telegraph, Porsche, Outside Magazine, Rock and Ice, and Red Bull.

He holds two degrees in Exercise and Health Sciences, and a PhD in Public Health.

His areas of expertise are polar expeditions, mountaineering, hiking, and adventure travel. In his spare time Ash enjoys going on small independent sledding expeditions, outdoor photography, and reading adventure literature.

Read more at www.ashrouten.com or follow Ash via @ashrouten on Twitter and Instagram.