Horia Colibășanu of Romania and Peter Hamor of Slovakia have arrived at an area known as the Japanese Base Camp on Dhaulagiri (8,167m). The long-term climbing partners plan to open a new route without oxygen or Sherpa support. Romanian high-altitude climber Marius Gane joins them on this project.
Between the team, they have over 25 ascents of 8,000m peaks and prior experience on Dhaulagiri. Says Colibășanu: "Peter and I have already climbed Dhaulagiri, while Marius specializes in technical and highly difficult routes. I only wish the weather would be on our side this year. We are confident and have been training for several months to face a route where no one has tread before."
Before meeting his teammates, Colibășanu had been trekking in Nepal and passed by Annapurna Base Camp, which looks to have been partly destroyed by an avalanche.
The three climbers have set up their own Base Camp on Dhaulagiri at the 4,200m Japanese camp, and will start acclimatizing over the next few days by equipping the route and installing intermediary camps.
Their planned summit push falls in the May 15-25 window, when the weather is often favourable for climbs above 8,000m.
About the Author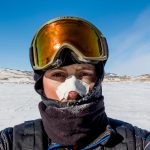 Ash Routen
Ash is an outdoor and adventure writer from the UK. He juggles a day job as a public health scientist with a second career in outdoor writing.

His words have featured in national newspapers, international magazines, and on various websites. Major bylines include Financial Times, Daily Telegraph, Porsche, Outside Magazine, Rock and Ice, and Red Bull.

He holds two degrees in Exercise and Health Sciences, and a PhD in Public Health.

His areas of expertise are polar expeditions, mountaineering, hiking, and adventure travel. In his spare time Ash enjoys going on small independent sledding expeditions, outdoor photography, and reading adventure literature.

Read more at www.ashrouten.com or follow Ash via @ashrouten on Twitter and Instagram.