The first death of the spring Himalayan season occurred earlier this week, when Phujung Bhote Sherpa fell into a crevasse while fixing rope near Camp 2 on Cho Oyu (8,188m), the sixth highest mountain in the world.
The Nepali was part of a five-man Sherpa team supporting 10 foreign climbers, led by German adventurer Martin Szwed.
Veteran readers of ExWeb may recognize Szwed's name. In 2015, Szwed faked a South Pole solo speed record for the Hercules Inlet route. He later admitted that he had submitted false photo proof, and his record claims have been roundly dismissed as it was later shown he had not skied any of the route at all.
Murari Sharma, Managing Director at Everest Parivar Treks, the company providing Szwed and co. with logistics, said Phujung Bhote fell to his death on April 29 when fixing ropes to Camp 2 (7,100m).
Attempts are being made to retrieve Phujung Bhote's body and return it to his family in the Makalu region of Nepal.
Previous Links

Antarctica current: After the Great Hoax, What's Next for Szwed?
Ghost skier? No trace of Martin Szwed's claimed South Pole speed record
Norwegian record-holder calls out German on polar speed claim
Alone on the Ice – Outside Magazine
About the Author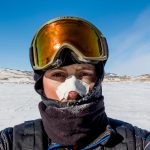 Ash Routen
Ash is an outdoor and adventure writer from the UK. He juggles a day job as a public health scientist with a second career in outdoor writing.

His words have featured in national newspapers, international magazines, and on various websites. Major bylines include Financial Times, Daily Telegraph, Porsche, Outside Magazine, Rock and Ice, and Red Bull.

He holds two degrees in Exercise and Health Sciences, and a PhD in Public Health.

His areas of expertise are polar expeditions, mountaineering, hiking, and adventure travel. In his spare time Ash enjoys going on small independent sledding expeditions, outdoor photography, and reading adventure literature.

Read more at www.ashrouten.com or follow Ash via @ashrouten on Twitter and Instagram.