Tim Mosedale and Dorjee Gyalgen Sherpa are the first climbers this season to summit the tricky 7,861m Nuptse.
Mosedale and a team of climbing Sherpas have put in some backbreaking work since early May. They repeatedly broke trail to Camp 3 and painstakingly fixed ropes above 7,000m. They had anticipated a May 14 summit, but mixed weather slowed their progress. A summit attempt on May 16 fell short when the team ran out of daylight while fixing the route.
The third try proved the charm for Mosedale. He and Dorjee Gyalgen set off last night and summited in late afternoon on May 21. There have been 37 climbing permits issued for Nuptse, and now that the route to the summit is set, this rarely climbed peak could see significant traffic in the next few days.
About the Author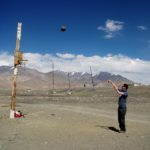 Martin Walsh
Martin Walsh is a freelance writer and wildlife photographer based in Da Lat, Vietnam.

A history graduate from the University of Nottingham, Martin's career arc is something of a smörgåsbord. A largely unsuccessful basketball coach in Zimbabwe and the Indian Himalaya, a reluctant business lobbyist in London, and an interior design project manager in Saigon.

He has been fortunate enough to see some of the world. Highlights include tracking tigers on foot in Nepal, white-water rafting the Nile, bumbling his way from London to Istanbul on a bicycle, feeding wild hyenas with his face in Ethiopia, and accidentally interviewing Hezbollah in Lebanon.

His areas of expertise include adventure travel, hiking, wildlife, and half-forgotten early 2000s indie-rock bands.