Here at ExWeb, when we're not in the outdoors, we get our adventure fix by exploring social media and the wider interweb. Sometimes we're a little too plugged in, and browsing interesting stories turns from minutes into hours. To nourish your own adventure fix, here's some of the best links we've discovered this week…
Candid Interview with Louis Loncke: Belgian desert specialist discusses living like a student at age 39, carrying a 132-lb backpack and even harder, finding a girlfriend who doesn't mind his long stretches away.
Serious Endurance: Nicky Spinks completes one of Britain's toughest mountain runs, twice within 57 hours.
Interview with a Machu Picchu Porter: Richard Pfocohuanca has hiked the Inca Trail  hundreds of times. But he's never made it to Machu Picchu.
First Ascent: Robert Anderson recalls his team's first ascent of the Kangshung Face of Everest in 1988.
A Call to the Wild: A neat video blending the words of Robert Service with footage captured by polar adventurer Eric Larsen.
A 2,500km Sea Kayak Journey: In 2012, Erik Boomer and Jon Turk circumnavigated Ellesmere Island by kayak, using them as sleds most of the way.
Wi-Fi on Everest: How one local Sherpa has a monopoly on internet access at Base Camp.
Greenland adventure pix: Some carefully framed photos of this arctic jewel. Paddleboarding up to an iceberg is playing Russian roulette, though!
About the Author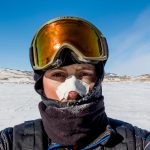 Ash Routen
Ash is an outdoor and adventure writer from the UK. He juggles a day job as a public health scientist with a second career in outdoor writing.

His words have featured in national newspapers, international magazines, and on various websites. Major bylines include Financial Times, Daily Telegraph, Porsche, Outside Magazine, Rock and Ice, and Red Bull.

He holds two degrees in Exercise and Health Sciences, and a PhD in Public Health.

His areas of expertise are polar expeditions, mountaineering, hiking, and adventure travel. In his spare time Ash enjoys going on small independent sledding expeditions, outdoor photography, and reading adventure literature.

Read more at www.ashrouten.com or follow Ash via @ashrouten on Twitter and Instagram.