In the shadow of Muztagh Ata, or the Father of Ice Mountains, the fast-paced town of Kashgar dreams of bigger things. Turkic Muslim residents refer to this tiny pit stop at the foot of the 7,546m titan as the centre of the world. Thousands of mountaineers and skiers have passed through to tackle this second highest mountain on the Tibetan Plateau.
When Aron Ralston – the guy who famously cut off his own arm – Bryan Long and Michael Ash set out from Kashgar in 2013 for a three-week expedition to the summit, they carried the words of an old local man with them: "The mystery of a mountain and the compulsion to climb is like the struggle of the human spirit to know the world."
Almost from the start, difficulties bedeviled their ascent: cold, malfunctioning equipment and the damage to their bodies imposed by the altitude left them exhausted but determined to finish.
On the barren slopes, removed from the life below them, they found comfort in the little things: a self-deprecating joke, camaraderie, a simple meal of mac and cheese from a pouch. They fought their way upward, despite the frustration of moving "like a herd of turtles."
Ultimately, the effects of high altitude caught up with Michael Ash. What started as a dry cough turned into a hazard for both himself and the team. He descended while Ralston and Long pressed on and finally stood on the top of Muztagh Ata, gazing at Broad Peak and K2 in the distance.
The 10-minute film shows the inner and outer journey of the climbers as they strive to be worthy of this legendary summit.
About the Author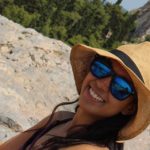 Kristine De Abreu
Kristine De Abreu is a writer (and occasional photographer) based in sunny Trinidad and Tobago.

Since graduating from the University of Leicester with a BA in English and History, she has pursued a full-time writing career, exploring multiple niches before settling on travel and exploration. While studying for an additional diploma in travel journalism with the British College of Journalism, she began writing for ExWeb.

Currently, she works at a travel magazine in Trinidad as an editorial assistant and is also ExWeb's Weird Wonder Woman, reporting on the world's natural oddities as well as general stories from the world of exploration.

Although she isn't a climber (yet!), she hikes in the bush, has been known to make friends with iguanas and quote the Lord of the Rings trilogy from start to finish.