Jenny Davis has limped over the finish line on her solo, unsupported expedition from Hercules Inlet to the South Pole.
Like Wendy Searle, Davis had been aiming to best Johanna Davidsson's 39-day woman's record. For two-thirds of the journey she kept pace, before falling behind during the climb to the polar plateau.
Davis has been struggling with a thigh injury for the last few days, making for a painful slog to the finish. Her official time is not yet confirmed.
About the Author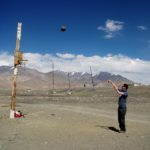 Martin Walsh
Martin Walsh is a freelance writer and wildlife photographer based in Da Lat, Vietnam.

A history graduate from the University of Nottingham, Martin's career arc is something of a smörgåsbord. A largely unsuccessful basketball coach in Zimbabwe and the Indian Himalaya, a reluctant business lobbyist in London, and an interior design project manager in Saigon.

He has been fortunate enough to see some of the world. Highlights include tracking tigers on foot in Nepal, white-water rafting the Nile, bumbling his way from London to Istanbul on a bicycle, feeding wild hyenas with his face in Ethiopia, and accidentally interviewing Hezbollah in Lebanon.

His areas of expertise include adventure travel, hiking, wildlife, and half-forgotten early 2000s indie-rock bands.