Denis Urubko and his two teammates have retreated on Broad Peak after reaching 7,650m. "No ropes and a lot of crevasses," Urubko wrote during a short break at Camp 3. "[Too] tired to break trail, too risky, not enough time."
They expect to reach Base Camp tomorrow. He said nothing about the expedition being over. Rather, he added that this latest venture up-mountain has meant that everyone is now well-acclimatized, suggesting that a further attempt is likely.
About the Author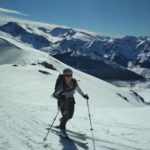 Angela Benavides
Senior journalist, published author and communication consultant. Specialized on high-altitude mountaineering, with an interest for everything around the mountains: from economics to geopolitics. After five years exploring distant professional ranges, I returned to ExWeb BC in 2018. Feeling right at home since then!